Solutions to Dealing With Difficult Customers
Results in Stellar Customer Service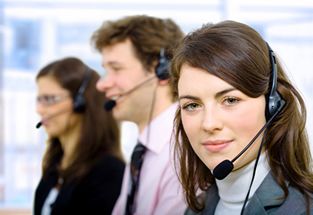 For more information on customer service training in Vermont and throughout the U.S. please call
(888) 686-9252 or e-mail us at Info@VermontSalesTraining.com

Training For Success customer service training programs are designed for specific industries and tailored to meet your organization's specific goals, style and objectives.
Customized & Highly Interactive Customer Service Training Programs designed to help Vermont Businesses Throughout the State from Burlington to Montpelier includes:
• Role playing exercises reinforce the material and shape each customer service technique to fit your representatives' individual personalities and styles.
• One-on-one customer service training consultations tailor the training to solutions that calm difficult customers quickly and satisfy customer needs.
• Limited class sizes ensure individual attention.
• Real world customer service techniques from the Vermont marketplace.

Customer Service Training Techniques Guaranteed to Turn Complaints Into Compliments

Two Sample Customer Service Programs:

1.) Half-Day Seminar - A.W.A.R.D.-Winning Customer Service
2.) Full-Day Seminar - The Art of Turning Challenge into Cheers

COURSE OUTLINES
INTENSIVE 1/2 DAY SEMINAR:
AN A.W.A.R.D.-WINNING CUSTOMER SERVICE
This program provides your customer service representatives with proven customer service techniques that will allow them to quickly control the conversation and diffuse heated situations.

Customer service representatives will learn:

• Friendly rapport building techniques to create long term customer service relationships
• How to gain the customer's attention in seconds and make a good first impression
• Four sets of questions that develop trust and uncover your customers specific needs
• The single essential technique to handle the objection of the most stubborn customer
• Eight steps to reveal the hidden reasons that keep a customer from "letting go" of issue
• Four-part technique to highlight how the customer benefits from your solution over that of the competition
• Seven solutions that leave the customer smiling
• Through role-playing and training exercises, all of these techniques become second nature


COMPREHENSIVE FULL DAY SEMINAR:
THE ART OF TURNING CHALLENGES INTO CHEERS
This customer service seminar provides your support team with all the skills and techniques necessary to increase customer satisfaction, no matter what their level of expertise. It incorporates all the benefits and customer service training techniques of the 1/2-Day seminar.

Your Customer service representatives will learn:

• How to increase positive word of mouth no matter how heated the situation.
• Four steps to teach reps to discuss solutions and benefits rather than problems.
• How to turn complaints into repeat customer opportunities.
• Three techniques that will make customer service reps better listeners.
• Understand why a customer complains and how to use that information.
• Reading body language and the real meaning of spoken words.
• Seven exercises to handle the most common objections and challenges that have reps reach 100% of their potential.

Custom-tailored customer service programs for your company

As always, each customer service program is tailored to your company, your industry and your people. In addition, each customer service program incorporates the customer service skills and tools utilized by your top achievers. Programs can be delivered at a location of your choosing or at our Vermont Training Center. Whether your team is in Philadelphia, Scranton or up in Pittsburgh or Allentown, we're happy to help.
For more information on customer service training in Vermont and throughout the U.S. please call (888) 686-9252 or e-mail us at Info@VermontSalesTraining.com